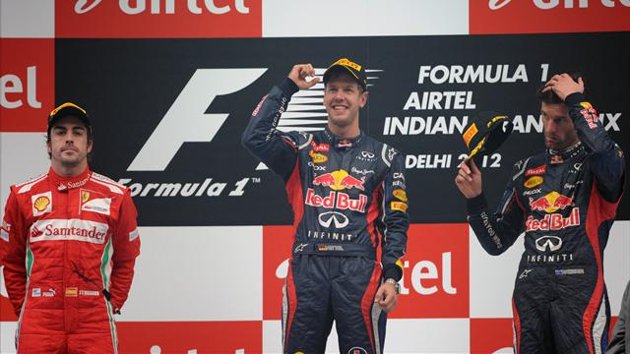 The victory from pole position was the world champion's fourth in a row - the first time he has done that in a single season - and maintained his dominance in India after winning last year's inaugural race at the hazy Buddh International Circuit from pole.
The 25-year-old German now has 240 points to 227 for Alonso, who started in fifth place, and his surge towards a third title in a row is beginning to look unstoppable despite the Spaniard's best efforts.
His fifth win of the season was the 26th of his career, and the only mistake he made all afternoon was to switch off the engine too early as he came into the pitlane to park under the podium after Indian 2012 Olympic shooting bronze medallist Gagan Narang had waved the chequered flag.
Australian team mate Mark Webber, who was third, gave the winning Red Bull a push with his car to reach the correct spot.
"A very special grand prix. I don't know what it is about this circuit but I really like the flow of it," said Vettel, who has now led every single lap for three successive races - a feat last managed by the late triple champion Ayrton Senna in 1989.
In two years, no other driver has ever led a lap of the Indian circuit either.
"This was another good step for us but there's still a long way to go," said Vettel with his customary caution after performing his familiar raised finger routine.
Webber, who started on the front row, complained of a loss of KERS after 45 of the 60 laps and was passed by Alonso three laps later.
"It is not easy at the moment to fight the Red Bull but we will never give up," said the Spaniard, who passed both McLarens in the early laps, in a podium interview in front of the cheering crowd.
"Well done to Red Bull and Sebastian but we want to be happy and enjoy it in Brazil (the last race). It is not only here. I am sure we will do it."
Kimi Raikkonen hung on to third place in the overall standings with seventh place for Lotus on a hot afternoon but he is now 67 points off the lead and just six ahead of Webber.
McLaren's Lewis Hamilton and Jenson Button finished fourth and fifth respectively, with the latter denying Vettel the fastest lap but with his title hopes now mathematically over for another year.
"The start of the race was my highlight," said Button. "There were just millimetres between Lewis, Fernando and me. I've never had a start quite like that before, unbelievably hard fought, and none of us hit each other. It was so close, so tight, yet so clean."
The highlight of Hamilton's race was a rare five wheel change pitstop, with his mechanics replacing his steering wheel as well as the tyres without missing a beat after he had complained of a downshift problem.
Brazilian Felipe Massa was sixth for Ferrari, ahead of 2007 champion Raikkonen, with Germany's Nico Hulkenberg eighth for Force India in the team's home race.
Frenchman Romain Grosjean finished ninth for Lotus and Brazilian Bruno Senna grabbed the final point for Williams on an afternoon short on thrills for the crowd making the trip south from New Delhi.
Seven times champion Michael Schumacher, probably the biggest Formula One name in a country more focused on cricket, collided with Toro Rosso's Jean-Eric Vergne at the start and pitted with a punctured rear right.
That sent the 43-year-old German to the back of the field on his last race appearance in India. To compound his problems, he was lapped by Vettel after eight laps and was then under investigation for ignoring blue warning flags.
Schumacher battled on until finally retiring on lap 57.
Mexican Sergio Perez retired in the pits after also suffering a puncture when his Sauber clipped the front of Toro Rosso's Australian Daniel Ricciardo as they were leaving the pits together on lap 20.
"It's been a difficult weekend. The contact with Ricciardo came and that's it, we damaged rear suspension of the car," said Perez, who is joining McLaren next season.
India's sole driver Narain Karthikeyan finished 21st for Spanish stragglers HRT.