2021F1 opener Bahrain Grand Prix race at the Saqir track end. Hamilton made a strong start to the season by clocking 1h 32.03.897 to claim his 96th career title and top podium position for the third consecutive year at the Bahrain Grand Prix, with team-mate Bottas taking third and fastest lap (1min 32.090). Red Bull driver Vestapan, who started from pole position, finished second.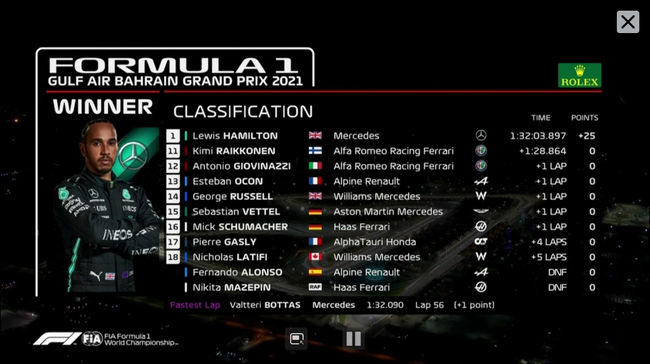 2021F1 Bahrain Grand Prix results
The race was still played in strong winds. From the warm-up lap, there were a lot of accidents: Perez, who finished 11th in qualifying, had an engine failure on the warm-up lap and stopped off the track, forcing the race to add an extra lap. Perez started from the pit lane. On the first lap, Haas driver Ma Zeping skidded off the track and retired, leading to the safety car. During the race, Alonso retired because of braking problems; Bottas made a terrible mistake on lap 30, taking 10 seconds to finish in fifth place.
Hamilton, who started second, took advantage of the two stops to overtake Vestapan and move into the lead. In the last 15 laps, the two sides were engaged in a chase that kept the race in suspense until the end. On lap 53, in turn 4, vestappan overtook Hamilton to regain the lead, but had to give it back for illegal overtaking out of the lane. Then the Vestapan seemed to have a problem, losing speed, and although he kept up, he was unable to overtake again. At the end of lap 56, Hamilton crossed the line first in 1h 32.03.897, with Vestappan in second 0.745 seconds behind. Bottas fought his way back to third place and set the fastest lap of 1min 32.090 on the final lap. Nos. 4-10 are: Norris, Perez, Leclerc, Ricardo, Sines, Hiroki Kakata and Stroll.