Norris qualified eighth for his debut, and after running 10th in the early stages was stuck behind the Alfa Romeo of Antonio Giovinazzi in the first part of his second stint.
This allowed Lance Stroll, Daniil Kvyat and Pierre Gasly to jump him, meaning he finished the race 12th.
"He did a great job overall," de Ferran told Motorsport.com. "He really didn't put a foot wrong the whole weekend."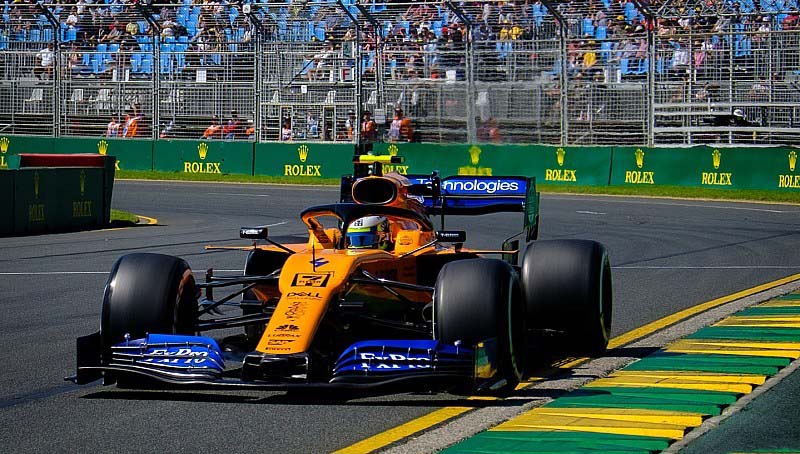 "A lot of control and discipline, he peaked when he had to pace-wise in qualifying, and in the race we were just unfortunate with the Giovinazzi train."
"Other than that I think he managed himself really well and frankly drove like a veteran in many ways."
"He had both to attack and defend during the race, had to manage his pace and the tyres and I think he did that very well."
De Ferran was not disappointed that Giovinazzi stayed ahead for so long, despite Norris believing it would have been possible to pass the Alfa Romeo more quickly faced with the same situation in the future.
"Listen, it's his first grand prix," said de Ferran when asked if Norris should have got past Giovinazzi quicker."
"I'm sure if he plays it back, one would hope that he would think he could do this better and that better."
"That's one of Lando's great attributes, his ability to think through his own performance and analyse very carefully what he's doing inside the car, his decision making and so on."
"That ability to be self-critical and open minded, in my summation, is something that's going to serve him well."
De Ferran said that Norris's performance during the weekend showed that the 19-year-old belongs in F1 even if the final result didn't do him justice.
"He certainly didn't feel out of place," he said. "It was a good performance and it was a shame that he didn't come home with a few points, which was entire in the realms of possibility had the race gone a bit differently."